SPECTRA LL300S-27 laser package with DELUXE HL760 Receiver
includes: Grade Rod INCHES and Aluminum Tripod with System Case


Medium-range, highly accurate leveling solution


The Spectra Precision® LL300S-27 is a ruggedized, fully automatic self-leveling Laser Level for all general concrete and site preparation applications. With the addition of the arrow buttons on the transmitter, grade matching and single axis manual slope can be performed whilst the other axis remains self leveled. A standout feature of this LL300S-27 package is the Deluxe HL760 Receiver. This rugged Receiver is best in class and features a Large 5-Inch reception height. With this Larger reception height you get more data back from the laser allowing better accuracy and faster readings.
No Cost 5-Year Warranty offers no repair charge for parts and labor of the laser.
If Laser Unit fails in the first FIVE years - send it back and get it repaired for free


The Spectra Precision® LL300S-27 Laser Level features a rugged design with a metal sunshade that provides superior drop and weather protection (IP66). Designed for durability and reliability, the IP66 protection rating allows the Spectra Precision® LL300S to be operated in adverse environmental conditions, such as heavy rain. Mud and concrete can be washed off with a hose. The LL300S can withstand drops of up to 3 feet onto concrete and tripod tip-over up to 5 feet, resulting in reduced downtime and lower repair costs.
The LL300S-27 is easy to use: turn it on, it levels, it spins. With the addition of the arrow buttons on the transmitter, grade matching can be performed whilst the other axis remains self leveled. You can purchase the optional, RC402N long range (330 foot) radio remote control makes slope matching a single person operation plus you can use it for line control if the laser is in the vertical position.
Spectra Precision LL300S-27 Exterior Laser Package INCLUDES

LL300S RED Beam Laser Level
HL760 Deluxe Receiver

LARGE 5-inch Reception Height

Rod Clamp C70
Grade Rod INCHES (GR152) - Aluminum 15 Foot Adjustable
Aluminum Tripod Q104025

(4) D-Cell Alkaline Batteries
Large System Carrying Case

Multi language CD, Quick user guide and Safety Instruction

s

5-Year Warranty
Spectra Precision LL300S-27 Laser APPLICATIONS
General elevation control

Checking and setting elevations for small to medium job sites

Leveling forms and footers

Estimating cut and fills

Excavations

Basic slopes for driveways and ramps
Spectra Precision LL300S

-27

Laser KEY FEATURES
Automatic self-leveling

Accuracy 1/16 inch @ 100 ft

Working range of 2,600 ft diameter

Simple keypad for easy grade matching

Height of Instrument Alert - unit stops rotating when jarred to avoid erroneous readings

Long range Radio remote control (optional)


LL300S-27

Complete kit available and fits in one case with tripod and INCHES grade rod

Extremely durable and portable

5 Year warranty
Spectra Precision LL300N

-27

Laser BENEFITS
Complete leveling crew in a case Model LL300S-27 includes carrying case securely holds all components, tripod and grade rod

Easy to transport, easy to carry, easy to store

Highly durable construction

Superior drop and weather protection.

Fully automatic self-leveling

Superior drop and weather protection.

Energy-efficient design offers long battery life

Extremely versatile with

single-axis manual slope

Cross-axis self-leveling allows for grade matching on the job site.

Highly durable construction enables the LL300S to survive a drop up to 3 feet onto concrete

Radio remote control offers access to all laser

function from every jobsite place
Spectra Precision LL300S Red Beam Laser SPECIFICATIONS

Laser Source

red diode 650nm, Class 2, <3,4mW

Laser Accuracy


±

1/16-inch at 100-feet


Operating Range

2,600 foot diameter

(optional) Remote Control
Operating Range


330 foot


Compensation Method

Electronic Self-Leveling

Drop Height onto Concrete Performance

3 foot

Single Axis Manual Slope

Yes (with self-leveling mode on the second axis)

Out of level Warning

Rotor stops, red out-of-level HI/MAN-LED flashes

Power Source

4 x D-Cell Alkaline Batteries

Battery Life

Alkaline - 60 hours

Battery Status LED

Flashing red LED

Rotation Speed

600 RPM


Storage Temperature

-4°F to 158°F

Operating Temperature

-4°F to 122°F

Dust and Waterproof

Yes - IP66

Tripod Attachments

5/8 x 11 horizontally and vertically

Weight

5.9 lbs

Size

10.7 L x 7.7 W x 7.9 H inch


Warranty

5 Years
Spectra HL760 Digital Readout Receiver - INCLUDED in LL300S-27 Package
Highly versatile receiver for basic and advanced leveling and aligning applications


Works with HV302 in automatic Grade Match and PlaneLok applications



HL760 Laserometer Laser Receiver KEY FEATURES:

LARGE 5-INCH RECEPTION HEIGHT

Digital readout of elevation

Exact distance from on-grade displayed

Anti-strobe sensor to prevent false reading from jobsite strobe lights

Withstands a drop of up to 10-foot

Fingerprint function - detects only the laser beam of the paired transmitter

User Benefits:


No need to go "on-grade" to measure

Saves considerable time




Reduces rework by allowing remote monitoring

Increases reliability, accuracy and durability

Spectra Precision HL760 Digital Readout Receiver SPECIFICATIONS

Digital readout units

mm, cm, feet, inches, fractional inch

Reception height

5-inches

Six On-grade sensitivities

Ultra fine ~1/32 inch


Super fine ~1.16 inch
Fine ~1/8 inch
Medium

~1/4 inch


Coarse

~1/2 inch


Calibration Mode

~1/64 inch




Battery Life (2 AA)

60+ Hours continuous operation

Auto shut-0ff

20 minutes / 24 hours

Operating Temp

-4°F to 122°F

Dust and Waterproof

Yes - IP67

Weight

13.1 oz

Warranty

3 Years "No Excuses"
SPECTRA LL300S laser package OPTIONS AND VARIATIONS




LASER
HL760
receiver

C70
adapter

GRADE
rod

BATTERIES
NiMH

REGULAR
case

SYSTEM
case

TRIPOD
aluminum


LL300S

HL450

C45

*

LL300S-1

*

HL450

C45


TENTHS


*

LL300S-2

*

HL450

C45


INCHES


*

LL300S-3

*

HL450

C45


METRIC


LL300S-4

HL450

C45

LL300S-6

CR600




LL300S-16

CR600


TENTHS


LL300S-26

CR600


INCHES


LL300S-7


HL760

C70




LL300S-17


HL760

C70


TENTHS

LL300S-27

HL760


C70




INCHES


LL300S-37


HL760


C70




METRIC


LL300S-47


HL760


C70

*DISCONTINUED MODELS

*

NOTE: Always add the product to the shopping cart to view the lowest discounted price.
SPECTRA LL300N VS LL300S : FEATURES

LL300N

LL300S

Operating Range (Diameter)

1,650 ft

2,600 ft
ACCURACY

3/32"@100'

1/16"@100'
Battery Life (Alkaline)

70 hours

60 hours
Weight

6 lbs

6 lbs
WARRANTY with "Knock Over" Drop Specification

5 ft

3 ft

Horizontal Electronic self-leveling

*

*

Vertical Capability (Manual mode only)

*

*

Water Resistant / 'Rain Proof'

*

*

Metal sunshade & patented lighthouse to seal & protect the rotor

**

**

Manual 'Slope' mode with Cross-Axis Self Leveling
(with RC601 remote)

**

**

NiMH Rechargeable battery option
(vs Alkaline only on LL100)

**

**

"Laserometer" Receiver
(TWICE the PhotoCell length + Numeric Readout)

**

**

5 YEAR 'No Cost' WARRANTY
(LL100 has only 1 year 'No Cost' + 2 Years Limited)

**

**
OPTIONAL RC402N Remote Control for LL300S

This Spectra RC402N Remote control allows for the user to control manual slope with one person from distances up to 330-feet. Without this remote control two people are need to adjust manual slope. Access and adjust the below features using the remote control. The remote control mirrors the basic functionality of the LL300S keypad.

RC402N allows you to access and adjust these features
remotely on the LL300S Series Spectra Laser

Adjustment of Slope Manually.

Mask Mode Settings

About LS

Runtime

Radio Channel Settings

HI Alert Sensitivity Settings (HI = Height of Instrument)

View HI Status

Callibration Settings

Language Settings

View Battery Status

Manual Grade Match: (1)Set up the laser at the first elevation point and align it to the second desired slope/elevation hub using the sighting guides on top of the sunshade. (2) Check the laser beam elevation close to the laser. (3)To activate the Y-axis single slope mode, press the manual mode button twice. The red and green LED flash simultaneously (once a second). (4)Set the grade rod with the receiver attached to it on the second desired slope/elevation hub. NOTE: DO NOT CHANGE THE RECEIVER POSITION ON THE ROD. (5)Using the remote control press the up and down arrow buttons until you get an on-grade reading on the receiver. (6)You now can check elevations along the direction of the slope. NOTE: When in Slope Mode the cross axis / X-axis will self level to maintain a consistent elevation of the sloped reference plane.


Mask Mode: allows you to electronically turn off the laser beam (electronic shutters) in up to 3 lighthouse windows to prevent interference with other receivers on on the jobsite.

HI Alert: Electronically monitors the height of the instrument. If the height changes the laser will stop and you will be notified via tone and visibly on both the laser and the remote control.

Language Options: EN, DE, IT, FR, ES, PT, NL, DA, NO, SV, FL, PL, TR and CZ


NEED HELP or HAVE QUESTIONS? Give us a call 1-877-866-5721
Spectra Laser COMPARISON CHART

GRADE LASER COMPARISON CHART




Horizontal Only Laser Levels

Horizontal and Vertical

LL100N

LL300N

LL300S

LL500

HV101

HV302

Accuracy

1/8-inch @ 100-ft


20 arc seconds



3/32-inch @ 100-ft


15 arc seconds



1/16-inch @ 100-ft


10 arc seconds

1/16-inch @ 100-ft


10 arc seconds

Operating




Diameter

1,150 feet




1,650 feet




2,600 feet

1,650 feet

1,150 feet


2,600 feet

Self-
Leveling
Range


±5 degrees electronic servo self-leveling




±11 minutes

±5 degrees electronic servo self-leveling



Power Source

2 x D-Cell
Alkaline

4 x D-Cell Alkaline Standard


Rechargeable NiMH Optional

2 x D-Cell
Alkaline
Rechargeable NiMH Standard


Alkaline Back-Up



Battery Life


80-hours Alkaline

90 hours Alkaline
45 hours NiMH

60 hours Alkaline
47 hours NiMH
175 hours Alkaline
100 hours NiMH

50-hours Alkaline

60 hours Alkaline
45 hours NiMH

Water Resistance

Yes IP54


Yes IP66

Yes IP54

Yes IP54

Yes IP66

Warranty

3-Year
Instant Exchange


5-Year

3-Year
Instant Exchange

5-Year

Receiver Options

(2.5")

HR320



(2.5")

HR320


(4")

HL450

(5")

HL760

(5")

HL700

(2") HL150U
(2.5")

HR320




(2") HL150U


(5")

HL760

Works with Remote

RC601

RC601

RC402N

RC601

RC402N

Size (inches)
L x W x H

8.5 x 6.7 x 6


10.7 x 7.7 x 7.9

10.8 x 7.5 x 7.5


8.5 x 6.7 x 6

10.7 x 7.7 x 7.9

Weight lbs.


3.3

6.8

8

3.3

6.8

SPECTRA LL300N VS LL300S : FEATURES

LL300N

LL300S

Operating Range (Diameter)

1,650 ft

2,600 ft
ACCURACY

3/32"@100'

1/16"@100'
Battery Life (Alkaline)

70 hours

60 hours
Weight

6 lbs

6 lbs
WARRANTY with "Knock Over" Drop Specification

5 ft

3 ft

Horizontal Electronic self-leveling

*

*

Vertical Capability (Manual mode only)

*

*

Water Resistant / 'Rain Proof'

*

*

Metal sunshade & patented lighthouse to seal & protect the rotor

**

**

Manual 'Slope' mode with Cross-Axis Self Leveling
(with RC601 remote)

**

**

NiMH Rechargeable battery option
(vs Alkaline only on LL100)

**

**

"Laserometer" Receiver
(TWICE the PhotoCell length + Numeric Readout)

**

**

5 YEAR 'No Cost' WARRANTY
(LL100 has only 1 year 'No Cost' + 2 Years Limited)

**

**

SPECTRA LASER RECEIVER COMPARISON CHART




HL760 QUICK COMPARISION for Spectra Precision Laser Receivers

LCD's
Beam
Compatability
Reception
Height
Digital
Readout
Drop
Rating
Warranty
HR320

Dual

RED

2-inch

arrows

5-feet

3 Year LTD
2 Years Free
HL450

Dual

RED

4-inch

arrows &




distance

5-feet

3 Year LTD
2 Years Free
HL700

Dual

RED

5-inch

arrows &




distance

10-feet

3-Year
No Excuse
HL750

Dual

RED

5-inch

arrows &




distance

10-feet

3-Year
No Excuse
HL760

Dual

RED

5-inch

arrows &




distance

10-feet

3-Year
No Excuse
HL760U

Dual

RED
GREEN

5-inch

arrows &




distance

10-feet

3-Year
No Excuse
CR600

Dual

RED

5-inch

arrows &




distance

10-feet

3 Year LTD
2 Years Free

HL760 DETAIL COMPARISON for Spectra Precision Laser Receivers

HR320

HL450

HL700

HL750

HL760

HL760U

CR600

Laserometer




w/numeric display

No

Yes

Yes

Yes

Yes

Yes

No

Digital Readout

No

Yes

Yes

Yes

Yes

Yes

No

Metric/English




unit of measure

No

Yes

Yes

Yes

Yes

Yes

No

Front/Back Readout

Yes

Yes

Yes

Yes

Yes

Yes

Yes

Machine Mountable

No

No

No

No

No

No

Yes

Self Calibrates

No

Yes

Yes

Yes

Yes

Yes

No

Strobe Rejection

No

No

Yes

Yes

Yes

Yes

No

Advanced Menu

No

No

Yes

Yes

Yes

Yes

No

Rod Level Vial

No

No

Yes

Yes

Yes

Yes

Yes

Water Resistance

Yes

Yes

Yes

Yes

Yes

Yes

Yes

Beam Color

RED


RED


RED


RED


RED



RED




GREEN

RED




Reception Height

2-inch

4-inch

5-inch

5-inch

5-inch

5-inch

5-inch

Levels of Accuracy

2

2

5

5

5

5

5

Drop Rating

5-feet

5-feet

10-feet

10-feet

10-feet

10-feet

10-feet

Exchange Warranty

3 Year LTD


2 Years Free

3 Year LTD


2 Years Free

3 Years Free

3 Years Free

3 Years Free

3 Years Free

3 Years Free

On Grade Positions

1

1

2

2

2

2

1

Volume Settings

3

3

3

3

3

3

3

Packaged with

LL100N
LL100N-1
LL100N-2


LL100N-3


LL300N-8
HV101GC-1
HV101GC-2


HV101GC-3


HV302GC-2



LL300N
LL300N-1
LL300N-2
LL300N-3
LL300N-4
LL300S
LL300S-1
LL300S-2
LL300S-3
LL300S-4
HV302



LL500


LL500

-1


LL500

-2


LL500

-3


LL500

-4
CTO-GL710


CTO-GL720



GL612
GL612-1
GL622
GL622-2
UL633
UL633-1
UL633-14
UL633-24


LL300S-7
LL300S-17
LL300S-27
LL300S-37
LL300S-47
LL400HV
LL400HV-1
LL400HV-2
LL400HV-4
HV302-7
GL412N
GL422N




Optional
for
Green
or
Red
Beam
Lasers
LL400HV-10
LL500-10
LL500-11
LL500-14
GL412N-14
GL422N-14
GL612-14
GL622-14
CTO-GL710-10
CTO-GL720-10
CTO-GL722
CTO-GL722-IR


NEED HELP or HAVE QUESTIONS? Give us a call 1-877-866-5721
Spectra Precision LL300S Laser Level DOWNLOADS
LL300S Laser Brochure
LL300S Laser User Guide
NEED HELP or HAVE QUESTIONS? Give us a call 1-877-866-5721
Spectra Precision HL760 Receiver BROCHURE DOWNLOAD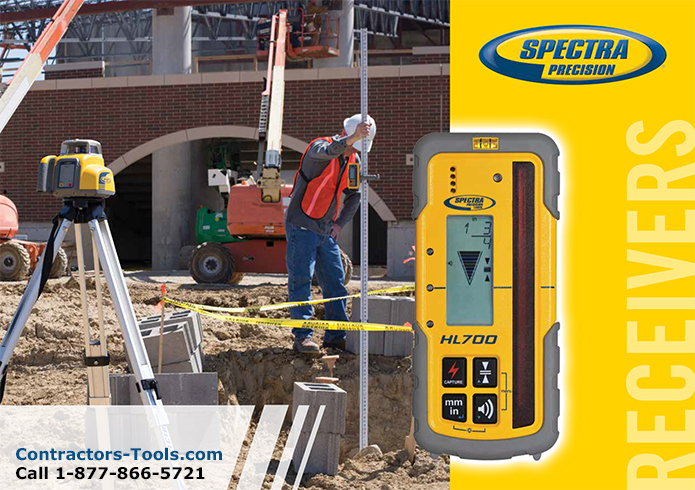 Spectra Precision HL760 Receiver USER GUIDE
NEED HELP or HAVE QUESTIONS? Give us a call 1-877-866-5721
Write a Review
Spectra Precision Laser
Spectra Precision LL300S-27 Laser Complete Package w/ HL760 Receiver and Inches Rod
5

perfecto

Posted by Raul on 19th Aug 2021

chingon......eso lo dice todo.

5

COntractor tools was very good to work with we had some questions and they contacted us and reassured us the order was in motion and they got us our laser ASAP. 10/10 I would recommend working with them

Posted by John Skrzypczak on 10th Apr 2021

100% A+