Spectra Precision HL760 Laser Receiver
Use with LL300S, LL400HV, HV302, GL412N and GL422N
The Spectra Precision Laser HL760 Laserometer digital readout of elevation and fingerprint functionality, the Spectra Precision HL760 provides fast grade checking and accurate laser readings. This advanced laser detector includes all the functions of the HL750 with the addition of grade matching and PlaneLok capabilities with the new Spectra self-leveling and grade lasers.
The HL760 digital readout receiver enables Grade Match and PlaneLok features when working with the LL400HV , HV302 , GL412N and GL422N lasers. Grade match slopes the laser automatically to match the fall between two elevations, while PlaneLok is available in both horizontal and vertical planes and automatically locks the beam on the receiver and keeps it on-grade.
The HL760 has a unique fingerprint feature that reduces connection errors and conflicts on jobsites where more than one laser is being used. Once paired with the construction laser, the HL760 only accepts the beam from the laser it is paired with.
The HL760 has an IP67 rating, the HL760 is dustproof and water resistant. It can withstand a drop of up to 10 feet high onto concrete and operates up to 60 hours using two AA alkaline batteries. It also automatically shuts off after 30 minutes of being idle to save power.
The HL760 shows the exact distance from on-grade on its large front and rear LCDs. It also has six accuracy settings and selectable units of measure are displayed in millimeter, centimeter, feet, inch or fractional inches. In addition, the HL760 can communicate with another HL760 for a longer range, wireless remote display and monitoring.
Spectra Precision HL760 Laserometer Laser Receiver INCLUDES
HL760 Laser Receiver
C70 Rod Clamp for Receiver

(2)x AA-Batteries

Operating Manual
Digital readout of elevation

Exact distance from on-grade displayed

Anti-strobe sensor to prevent false reading from jobsite strobe lights

Large reception height to ease beam reception

Withstands a drop of up to 3m (10ft)

Fingerprint functionality (when used with LL300S, LL400HV, HV302 and GL4X2N) detects only the laser beam of the paired transmitter
Fingerprint function filters out other lasers that strike the receiver and only accept the laser that it is paired with

No need to go "on-grade" to measure: saves considerable time

Reduces rework by allowing remote monitoring

Increases reliability, accuracy and durability
SPECTRA PRECISION HL Series Receivers Unique Technology

UNIQUE TECHNOLOGY

Our patented "Light Bar" technology has the following advantages:

Longer reception length




More granularity on the reception length

Simplified design with more durable components rather than many fragile soldered components

As a result, it delivers:

Performance not affected by the beam diameter


Consistent accuracy over the whole operating range. Other forms of laser detection do not provide the consistency of the accuracy over distance meaning they are adding more error to the readout

Unbeatable robustness enabling you to work in harshest conditions

Spectra Precision HL760 Laser Receiver APPLICATIONS

Setting and checking jobsite elevation and depth for:

Cut and fills

General grading

Foundations, forms, and footings

Excavations
SPECTRA LASER RECEIVER COMPARISON CHART
HL760 QUICK COMPARISION for Spectra Precision Laser Receivers

LCD's

Beam
Compatability

Reception




Height

Digital




Readout

Drop




Rating

Warranty

HR320

Dual

RED

2-inch

arrows

5-feet

3 Year LTD


2 Years Free

HL450

Dual

RED

4-inch

arrows &




distance

5-feet

3 Year LTD


2 Years Free

HL700

Dual

RED

5-inch

arrows &




distance

10-feet

3-Year


No Excuse

HL750

Dual

RED

5-inch

arrows &




distance

10-feet

3-Year
No Excuse

HL760

Dual

RED

5-inch

arrows &




distance

10-feet

3-Year


No Excuse

HL760U

Dual

RED
GREEN

5-inch

arrows &




distance

10-feet

3-Year


No Excuse

CR600

Dual

RED

5-inch

arrows &




distance

10-feet

3 Year LTD


2 Years Free
HL760 DETAIL COMPARISON for Spectra Precision Laser Receivers

HR320

HL450

HL700

HL750

HL760

HL760U

CR600

Laserometer




w/numeric display

No

Yes

Yes

Yes

Yes

Yes

No

Digital Readout

No

Yes

Yes

Yes

Yes

Yes

No

Metric/English




unit of measure

No

Yes

Yes

Yes

Yes

Yes

No

Front/Back Readout

Yes

Yes

Yes

Yes

Yes

Yes

Yes

Machine Mountable

No

No

No

No

No

No

Yes

Self Calibrates

No

Yes

Yes

Yes

Yes

Yes

No

Strobe Rejection

No

No

Yes

Yes

Yes

Yes

No

Advanced Menu

No

No

Yes

Yes

Yes

Yes

No

Rod Level Vial

No

No

Yes

Yes

Yes

Yes

Yes

Water Resistance

Yes

Yes

Yes

Yes

Yes

Yes

Yes

Beam Color

RED


RED


RED


RED


RED



RED




GREEN

RED




Reception Height

2-inch

4-inch

5-inch

5-inch

5-inch

5-inch

5-inch

Levels of Accuracy

2

2

5

5

5

5

5

Drop Rating

5-feet

5-feet

10-feet

10-feet

10-feet

10-feet

10-feet

Exchange Warranty

3 Year LTD


2 Years Free

3 Year LTD


2 Years Free

3 Years Free

3 Years Free

3 Years Free

3 Years Free

3 Years Free

On Grade Positions

1

1

2

2

2

2

1

Volume Settings

3

3

3

3

3

3

3

Packaged with

LL100N
LL100N-1
LL100N-2


LL100N-3


LL300N-8
HV101GC-1
HV101GC-2


HV101GC-3


HV302GC-2



LL300N
LL300N-1
LL300N-2
LL300N-3
LL300N-4
LL300S
LL300S-1
LL300S-2
LL300S-3
LL300S-4
HV302



LL500


LL500

-1


LL500

-2


LL500

-3


LL500

-4
CTO-GL710


CTO-GL720



GL612
GL612-1
GL622
GL622-2
UL633
UL633-1
UL633-14
UL633-24


LL300S-7
LL300S-17
LL300S-27
LL300S-37
LL300S-47
LL400HV
LL400HV-1
LL400HV-2
LL400HV-4
HV302-7
GL412N
GL422N




Optional
for
Green
or
Red
Beam
Lasers
LL400HV-10
LL500-10
LL500-11
LL500-14
GL412N-14
GL422N-14
GL612-14
GL622-14
CTO-GL710-10
CTO-GL720-10
CTO-GL722
CTO-GL722-IR

Spectra Precision Laser Receiver DOWNLOADS
Spectra Precision Laser Receiver BROCHURE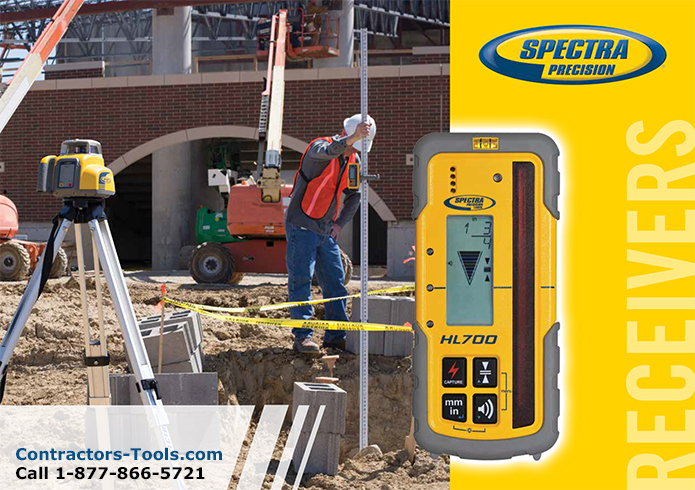 HL700 User Guide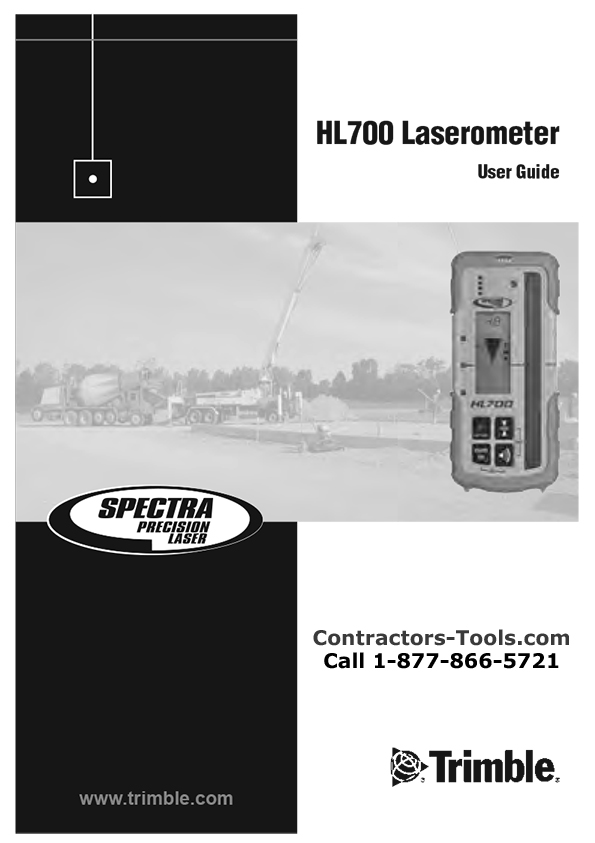 NEED HELP or HAVE QUESTIONS? Give us a call 1-877-866-5721
Write a Review
Spectra Precision Laser
Spectra Precision HL760 Laser Receiver (Radio) with Rod Bracket