Spectra Precision GL722 Dual Grade Laser Package
with CR600 Receiver and Radio Remote Control

The GL722 Series gives you the right laser for the right job… this dual steep slope grade laser transmitter with an advanced, long range radio remote control. Further, the GL722 Series offers the most innovative collection of features ever available – Long Range Remote Control, PlaneLok, Grade Matching and Automatic Axis Alignment – to let you get to grade faster and with more accuracy. On site, you'll find that the advanced features quickly translate into productivity and accuracy.



The GL722 features +/- 10% in the X axis grade range and -0.5 to +25% Y-axis grade range with high accuracy up to 3,000 foot diameter. The GL722 is ideal for general construction and machine control grade applications



With the GL722's powerful, long-range remote control, it only takes one person to accurately set up and operate the grade laser. Even grade reverse is done in an instant. And for the first time, you can automatically control all the transmitter functions from inside the machine cab. The GL722 comes with a laser receiver standard, your choice of power options, and the best service and support in the industry. With Spectra Precisions GL722 Grade Laser you can count on quicker setups and more productivity … for more profitability.
Spectra Precision GL722 Dual Grade Laser Package INCLUDES
GL722 Dual Grade Laser

CR600 Laser Receiver

C50 Clamp for Receiver and C51 Magnetic Mount

Radio Remote Control RC703

1446-8801

Input / Output Cable for RC703 remote to CR600 receiver

Remote Control Holster 1446-8710

Charger 1445-2092 w/ Cable 6003-0820

6 x D-Cell NiMH Batteries Q103077

12-Volt Battery Cable with Alligator Clamps

Carrying Case 1445-0860S

Operating Manual for GL722 laser and CR600 receiver

2-Year Warranty
Spectra Precision GL722 Laser FEATURES and BENEFITS
Precision High Accuracy, Extra Long Range Grade Laser

The GL722 Dual Grade Laser are the longest distance, most accurate, and most durable of the Spectra Precision Lasers.

The rugged die cast housing, advanced leveling technologies, and temperature compensation make the GL722 laser the best choice for long distance applications and machine laser display.

Automatic Axis Alignment, Grade Match and PlaneLok capability. Ideal for general construction, site preparation and road construction

Temperature compensation provides accurate stable results regardless of temperature changes

Long battery life and flexible power options keep the unit working throughout the day

Large displays make the numbers easy to read, even from a short distance




Better than 5 arc second servo deadband accuracy for demanding

high accuracy requirements

The GL722 features +10% in the X axis grade range and -0.5 to +25% Y-axis grade range with high accuracy up to 900 meters (3,000 feet) diameter. The GL722 is ideal for general construction and machine control grade applications

Manufactured in the USA
Spectra Precision GL722 Laser APPLICATIONS
General construction

Site preparation

Trenching

Pipe laying

Road construction

Machine control
Included CR600 Receiver Details

CR600 Combination Receiver


Machine or Rod Mounted Combination Receiver

APPLICATIONS

Setting and Checking Elevations

Basement Excavations

Digging Septic Tanks

Checking Foundations

Digging Footings

Leveling and Setting Forms

Checking sub-base materials

Screeding concrete

KEY FEATURES AND BENEFITS

Provides high, low, or on-grade information for all your grading and excavation applications up to

1,500 ft radius

In addition to handheld and rod-mounted capabilities, the CR600 system includes a C51 machine magnetic mount so it can be used as a machine-control mounted receiver in a wide range of jobsite applications

Magnesium housing is rugged but lightweight

M

Super-bright LED display can be easily seen by a machine operator in brightly lit conditions

270° reception for easy visibility of on-grade beam

Five on-grade sensitivities to customize need to application

Two-year warranty

Can be used with any brand rotating red laser
Spectra Precision GL72X Series Package Options
Part Number

Grade

Receiver

Clamp

CTO-GL710

Single

HL700

C70 Adapter for Receiver

CTO-GL710-10

Single

CR600

C50 Adapter for Receiver and C51 Magnetic Mount


CTO-GL720

Dual

HL700

C70 Adapter for Receiver

CTO-GL720-10

Dual

CR600

C50 Adapter for Receiver and C51 Magnetic Mount


CTO-GL722

Dual

CR600

C50 Adapter for Receiver and C51 Magnetic Mount


CTO-GL722-IR

Dual Infrared

CR600

C50 Adapter for Receiver and C51 Magnetic Mount


All part numbers include transmitter, case and NiMH rechargeable battery and charger
Spectra Precision GL72X Series SPECIFICATION COMPARISON
Model

GL710

GL720

GL722

Servo Deadband Accuracy

4.6 arc seconds

4.6 arc seconds

4.6 arc seconds

Operating Diameter

3,000 feet


3,000 feet

3,000 feet

Axis Grade Range X

NA

-10 to +10%

-10 to +10%

Axis Grade Y

-0.5% to +25%

-0.5% to +25%

-0.5% to +25%

Grade Resolution

0.001%

0.001%

0.001%

Slope Type
Single


Dual

Dual

Power Source

NiMH (6-D Cell)

NiMH (6-D Cell)

NiMH (6-D Cell)

Battery Life

30 hours


30 hours

30 hours

Rotation Speeds

300, 600, 900 rpm


300, 600, 900 rpm

300, 600, 900 rpm

Radio Remote Control

No

No

Yes

Auto Axis Alignment

No

No

Yes

Grade Match Mode


No

No

Yes

Planelok


No

No

Yes

Water Resistance

Completely Sealed and Waterproof

Size L x W x H (inches)

7.75 x 10 x 11.75

Weight (lbs)


18

Warranty

Wireless Remote SPECIFICATIONS

General

Radio Type, 2.4 gHz digital, encrypted to each other

Operating Range

750 ft general operation

500 ft automatic allignment

Battery Life


100 hours
Grade Match Mode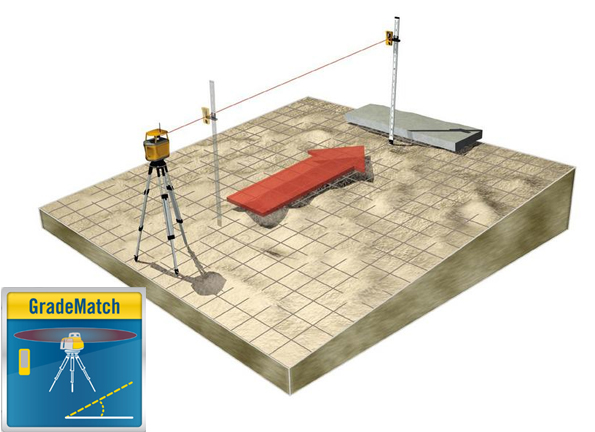 Grade Match Mode allows you to match the laser to an existing slope. Simply set your receiver at the same height as the transmitter then after going to your remote point, press a button on the wireless remote to enable the transmitter to automatically match and display the grade...without returning to the laser transmitter.
Automatic Axis Alignment Mode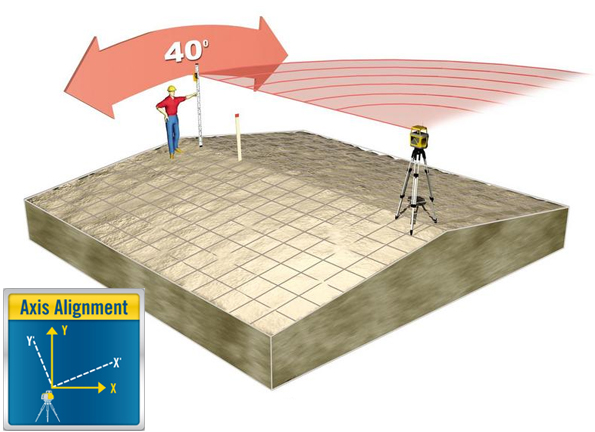 Up to 500 feet from the Transmitter. Allows simple alignment of either side of any grade axis to the desired remote point. This simple, one-person operation lets you roughly align the transmitter to within 40 degrees of the remote point. You can then go to your remote point and, with a simple button press on the wireless remote, the axis is automatically aligned. The remote provides immediate confirmation of the alignment. Automatic Axis Alignment simplifies setup and ensures repeatable accuracy.
Planelok Mode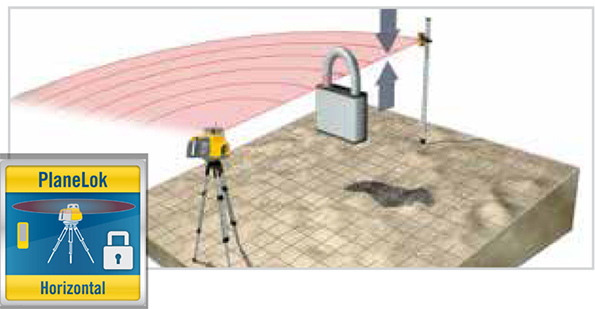 For applications that require maximum stability and accuracy, PlaneLok virtually eliminates beam drift by locking the laser beam to a fixed elevation. Simply set your handheld receiver at the desired elevation, select PlaneLok mode on the remote control and the laser beam will remain
exactly at that elevation all day long, regardless of wind or temperature changes. This increased stability and accuracy means less rework, better material control... and a better bottom line.
Spectra Precision GL720 - BUILT FOR THE JOBSITE
ACTIVE TEMPERATURE COMPENSATION
Accurate, stable results regardless of temperature changes
LONG-RANGE WIRELESS LINK
Unaffected by direction or sunlight
PROTECTIVE LENS HOOD
Ensures laser performance in inclement weather
MANUAL ALIGNMENT SIGHTS
Allows fast, easy setup
HIGH-POWERED VISIBLE BEAM
For fast setup and excellent performance in high dust conditions.
SELECTABLE ROTATION SPEEDS
300, 600, and 900 rpm.
INTUITIVE, SIMPLE CONTROLS
Makes the GL722 series easy to use and learn
MANUAL VERTICAL CAPABILITY
With the use of the Long-range Remote, vertical applications such as vineyards become simple to setup
FIELD CALIBRATION
Makes it simple to check and adjust the calibration in the field either at the transmitter or via the remote
LONG BATTERY LIFE
Flexible power options, battery life indicator, and a wireless operated sleep mode that saves battery during breaks
FULLY SEALED, RUGGED ALUMINUM HOUSING
With weather-resistant control panel, allows you to work in all weather and work conditions. Built-in non-slip carrying handle
GRADE BUMP
Allows you to simply raise or lower the grade remotely
GRADE REVERSE
Mirrors the grade setting with the push of a button
AUTOMATIC SELF-LEVELING
Over the entire grade range, simplifies setup and ensures repeatable accuracy (not applicable to GL742 steep grade model)
SPECTRA PRECISION LASERS
Proven performance and quality…supported by the industry's leading service centers
AUTOMATIC OFF GRADE SENSOR
Prevents incorrect grading … and wasted man and machine hours
LARGE ALPHA/NUMERIC DISPLAYS
Transmitter display is visible from ground even on 10 foot tripods…no ladder needed
Spectra GL700 SERIES GRADE LASER COMPARISON CHART
Spectra Precision GL7OO Series Package Options
Part Number

Grade

Receiver

Clamp

CTO-GL710

Single

HL700

C70 Adapter for Receiver

CTO-GL710-10

Single

CR600

C50 Adapter for Receiver and C51 Magnetic Mount


CTO-GL720

Dual

HL700

C70 Adapter for Receiver

CTO-GL720-10

Dual

CR600

C50 Adapter for Receiver and C51 Magnetic Mount


CTO-GL722

Dual

CR600

C50 Adapter for Receiver and C51 Magnetic Mount


CTO-GL722-IR

Dual Infrared

CR600

C50 Adapter for Receiver and C51 Magnetic Mount


All part numbers include transmitter, case and NiMH rechargeable battery and charger
Spectra Precision GL700 Series SPECIFICATION COMPARISON
Model

GL710

GL720

GL722

Servo Deadband Accuracy

4.6 arc seconds

4.6 arc seconds

4.6 arc seconds

Operating Diameter

3,000 feet


3,000 feet

3,000 feet

Axis Grade Range X

NA

-10 to +10%

-10 to +10%

Axis Grade Y

-0.5% to +25%

-0.5% to +25%

-0.5% to +25%

Grade Resolution

0.001%

0.001%

0.001%

Slope Type
Single


Dual

Dual

Power Source

NiMH (6-D Cell)

NiMH (6-D Cell)

NiMH (6-D Cell)

Battery Life

30 hours


30 hours

30 hours

Rotation Speeds

300, 600, 900 rpm


300, 600, 900 rpm

300, 600, 900 rpm

Radio Remote Control

No

No

Yes

Auto Axis Alignment

No

No

Yes

Grade Match Mode


No

No

Yes

Planelok


No

No

Yes

Water Resistance

Completely Sealed and Waterproof

Size L x W x H (inches)

7.75 x 10 x 11.75

Weight (lbs)


18

Warranty

Wireless Remote SPECIFICATIONS

General

Radio Type, 2.4 gHz digital, encrypted to each other

Operating Range

750 ft general operation

500 ft automatic allignment

Battery Life


100 hours
NEED HELP or HAVE QUESTIONS? Give us a call 1-877-866-5721
Write a Review
Spectra Precision Laser
Spectra Precision GL722 Dual Grade Laser with RC703 Remote and CR600 Receiver